Congratulations!
You've made it to XHeadlines.com! XH is a professional wrestling website that traces its history back to 1996. Pretty impressive, huh? The owner of this website – Joe Vincent – began uploading wrestling content to a free GeoCities website which, at the time, was known as The Balrog's Lair.
As the GeoCities community was folded into the Yahoo! suite of products, Joe eventually made the move to a domain name which, naturally, was TheBalrogsLair.com. If you visited TheBalrogsLair.com some time in 2002, then you might have been greeted by a welcoming page that looked something like this: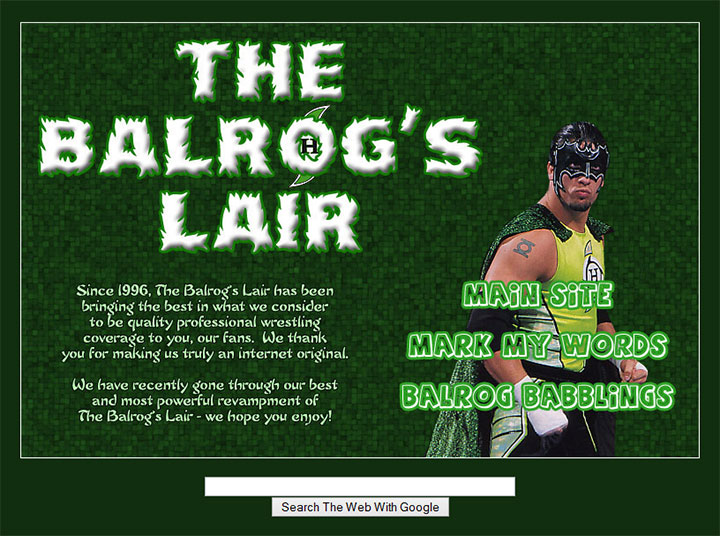 As you can tell, we were big fans of the green color for wrestling websites back in the day! And if you came back to see us a few years later in 2004, then you might have seen what we termed our "Syndicated News" design. It looked a little something like this: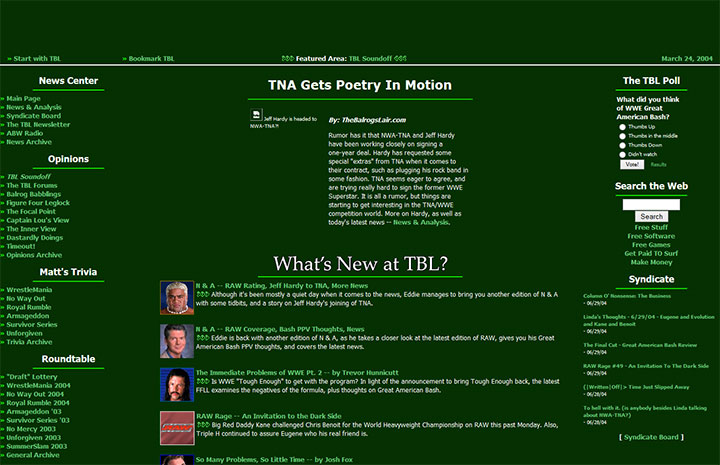 However, like any good website that was looking to grow and expand during the early 2000s, we started considering acquiring other websites to increase the scope of coverage that we could provide our readers. One of the growing trends at the time was a class of websites that focused on the beautiful women of professional wrestling. As Divas began to skyrocket in popularity, websites promoting these women were popping up all over the place… so, we bought one! At some point in the early 2000s, we purchased a website called WOWRevolution.com. It looked something like what you see below (forgive us for the poor recreation – there isn't much left online or in our files regarding this website):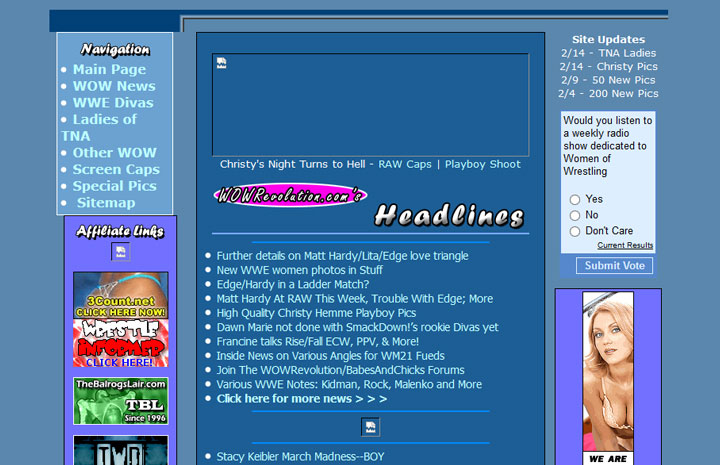 Truth be told, our foray into the wild world of women's wrestling websites didn't last very long. After two or three years, we sold WOWRevolution.com at a small profit and sought to find new ways to grow and expand our presence. One of those ways was simple enough – duplication! That's right, with TheBalrogsLair.com running full steam ahead, we decided that it was time to create another website in our family of professional wrestling websites and thus in 2006 XHeadlines.com was born. The look and feel of XHeadlines.com was completely different from what we were doing at TheBalrogsLair.com. We went with a Taz-inspired, cage theme for the design – take a look: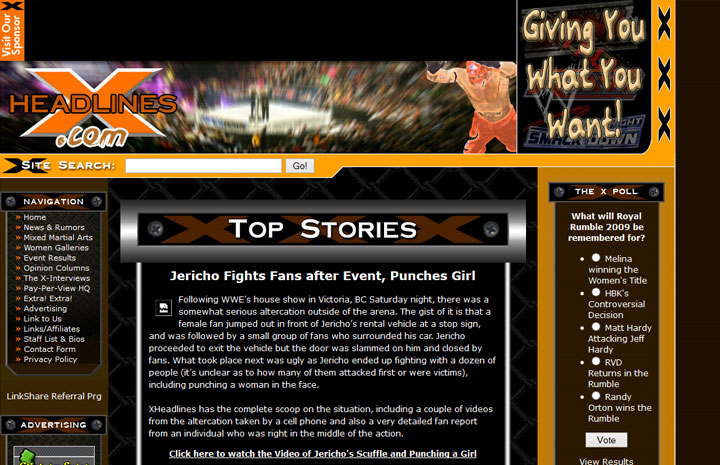 XHeadlines.com actually lasted quite a while as its own entity. If we're not mistaken (and we very well may be), XHeadlines.com lasted until 2012 until we ultimately folded it into IWHeadlines.com. Anyway, during the time of our expansion we came to the harsh reality that our beloved TheBalrogsLair.com domain was a difficult one for folks to remember and – thanks to the popularity of Peter Jackson's Lord of the Rings movies – to associate with professional wrestling. To address that concern, during the mid-to-late-2000s we moved much of our content over to TBLWrestling.com. We thought that this domain was cleaner, easier to remember, and gave a sleeker overall presentation. Along with the move to a new domain, we also changed our style once again and went with what we termed our "Black Bubble" design. It was created to resemble the new glassy look of Windows 7. Take a look: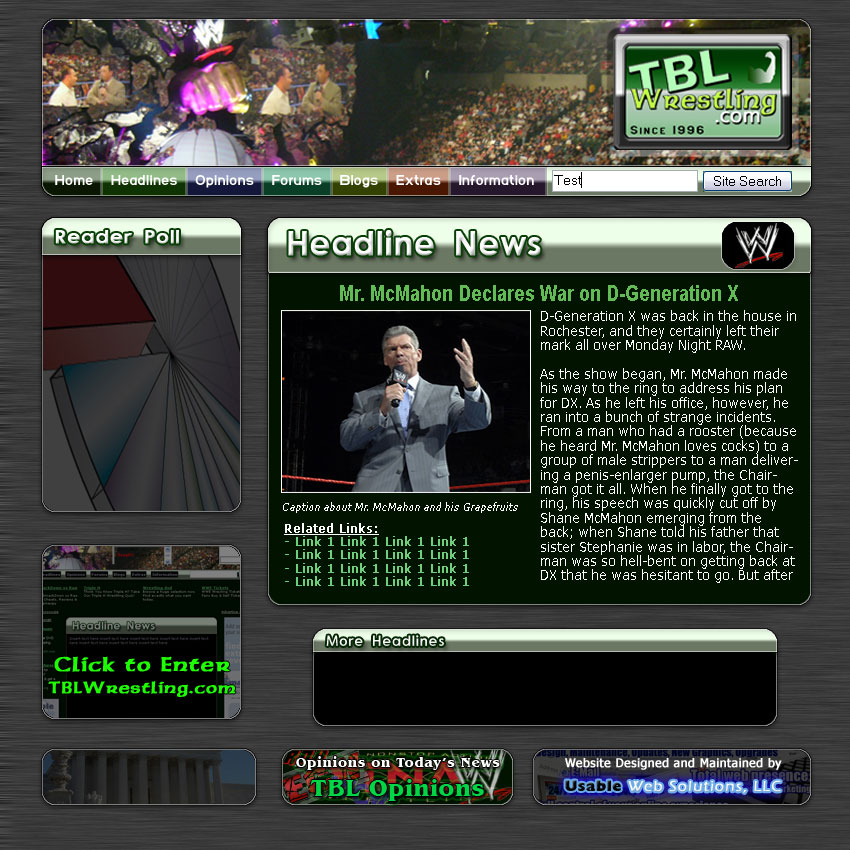 For better or for worse, the "Black Bubble" design didn't last very long. It was replaced with the last unique design that TBLWrestling.com used before that domain was forwarded to IWHeadlines.com. We called this design the "Newspaper Ribbon" look and it was a very effective, efficient use of the increasingly shrinking screen space that we had to work with as internet-enabled mobile phones began to grow in popularity. For those of you who are still with us, take a look at the Newspaper Ribbon design and enjoy the last independent look at TBLWrestling: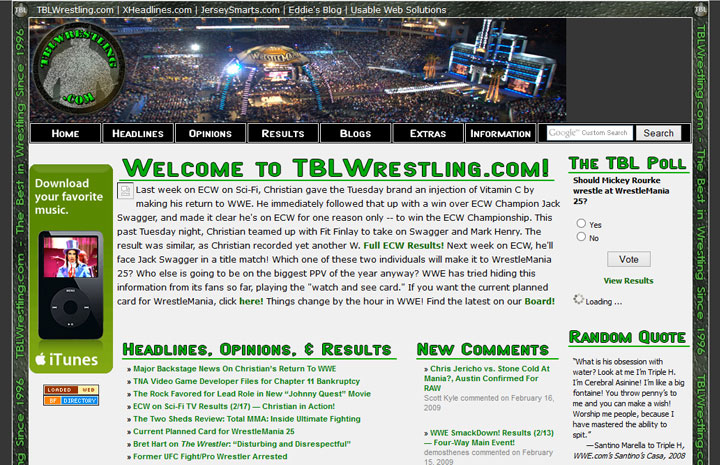 As Joe's interest in a WWE-dominated field of professional wrestling waned, he looked to create a website celebrating the alternative wrestling promotions – most notably TNA Wrestling. When Hulk Hogan and Eric Bischoff made their way to TNA in late 2009, Joe was already working on a TNA-specific website that he debuted along with the Hogan/Bischoff duo in January 2010. That website wound up being one of the most successful websites that we produced with an updated and more modern design focusing on the red/orange/brown look of TNA's broadcasts. See for yourself: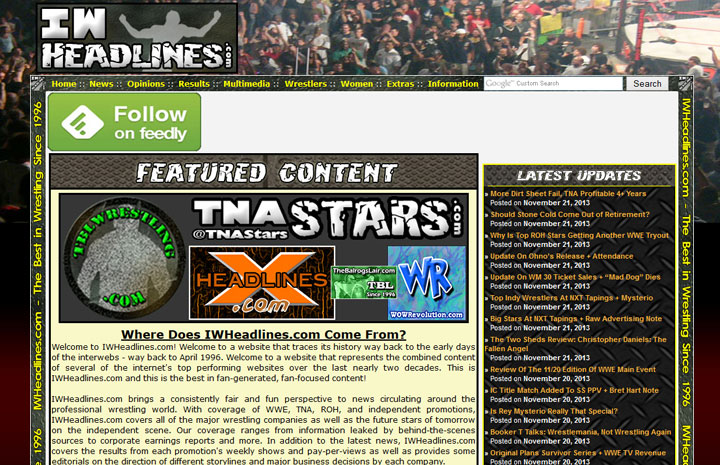 As the years went on, Joe began to consolidate all of his sites into TBLWrestling.com and TNAStars.com, ultimately consolidating TBLWrestling.com into TNAStars.com as well. However, even with a dedicated effort to consolidate all of the accumulated content from two decades of owning various wrestling websites, it didn't seem like TNAStars.com was the right platform to present that content. As a result of that uneasiness with making TNAStars.com the crown jewel of this aging internet empire, IWHeadlines.com was created with design elements from TNAStars.com, TBLWrestling.com, and XHeadlines.com. We're sure that you'll be able to pick out some of those design elements in one of the early screenshots of IWHeadlines.com from late 2013: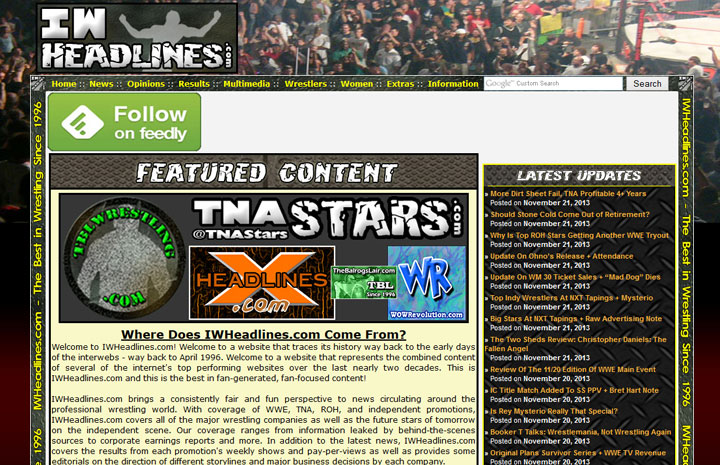 The consolidated IWHeadlines.com lasted until the summer of 2015 when Joe's non-wrestling interests took a commanding role in his life and he opted to close everything down. When IWHeadlines.com closed, it housed over 20,000 pages of content from our old GeoCities website, TheBalrogsLair.com, TBLWrestling.com, WOWRevolution.com, XHeadlines.com, and TNAStars.com. Oh – and IWHeadlines.com generated its own unique content, too. The IWHeadlines.com website also brought with it a powerful email outreach list and thousands of followers on social media.
And that… was it.
…until 2019, when AEW lit up the wrestling world and the embers of the fire that burned on these websites was reignited! In the latter months of 2019, but really in 2020, the content on IWHeadlines.com was transferred over to XHeadlines.com and XHeadlines.com became the new crown jewel of this reborn wrestling empire. In addition to transferring the old database of 20,000+ pages of content to XHeadlines.com, Joe began working to upload an additional 20,000+ pages of old news updates from the late 1990s through the mid-2000s. That work continues. Also, the entire suite of domains that were part of the empire were resurrected with specific focuses and some new domains were added to the group. The entire resurrected empire is operated off of new updates posted to XHeadlines.com. This is the breakout of the resurrected domains as well as the new domains added to the empire, as well as what they focus on:
AEWHeadlines.com focuses on All Elite Wrestling updates
IWHeadlines.com focuses on Impact Wrestling updates
NWAHeadlines.com focuses on National Wrestling Association updates
ROHHeadlines.com focuses on Ring of Honor updates
TBLWrestling.com focuses on opinion columns
TNAStars.com serves as a history page from the Total Nonstop Action era
WOWRevolution.com houses some picture galleries and more adult-oriented content
TheBalrogsLair.com serves as a site with a deeper dive into the history of internet wrestling
Also, you'll notice that the design of XHeadlines.com and most of the websites listed above is much simpler and cleaner than any of our prior designs. When this design was put together, the goal was to achieve something that easily responds to mobile phone formats as well as the latest updates in the core content management system that we use behind the scenes. We think we have been successful in that attempt.
We hope that you enjoy flipping around the accumulated content from our more than two decades of playing in the internet wrestling space on this website and across all of our domains. Have fun, everyone!