Greetings conversationalists all across the fruited plain it is I your personal Harvester of Sorrow the one and only Phantom Lord and this is the all might Rant Of The Week. I'm guessing everyone had a good thanksgiving since the last time I graced you all with a column. I'm also guessing due to the astounding lack of feedback that it was a very off week. I do welcome all feedback and or hate mail. I love to know what people are thinking of my lowly opinions of the God forsaken world of professional wrestling.
According to my filing system, this is column number 60 since I've gone into syndication. I should have had at least 120 columns by now, but lets be honest. Wrestling is not as fun as it used to be. It's very hard to come up with a good column week after week (or in my case every other week if I'm lucky). This week I was inspired so if I am lucky it will continue so I can belt this column out like I used to in the good old days. Ok things really haven't changed that much from then to now, it's just gotten so stale and formula driven that it's hard to be excited about anything anymore. Sure there are a few things that peak my interest (all of which I'll get to in this column), but other then that it's just so blah.
I was watching the Monday Night RAW from 11/3/97 on WWE Classics earlier today and you know how I keep saying Vince and company just try to rehash everything from back then. Well I was wrr…wrrr…I WAS WRONG. Ok well it's not so hard for me to say it, I just felt like paying tribute to The Fonz there. Seriously though while watching this RAW from 97 earlier (and this one is the one before the screwjob), the show was so damn unpredictable. It was truly Russo's crash television at it's best or worst depending on your point of view. It had anarchy, male insecurity to a far more over woman, a SHOOT style interview where Dustin Rhodes dumps his wife Terri, and the crowd being absolutely nuclear towards DX.
My God the heat Michaels, Triple H, Chyna, and Rick Rude were getting was insane especially when the crowd started chanting faggot. They also did that to Billy Gunn later in the night, but considering all the stuff he's done between then and now you can understand why. But no one on the current roster comes even close to the hate DX was getting back then. Vickie Guerrero comes pretty damn close at times, but its light years apart in comparison. I don't know how much of those show's back then were tightly scripted as they are now, but as I said the difference is night and day. Back then it was so unpredictable. It was like you had to stay tuned just to see what would happen next. Now it's more like "eh I'll just fast forward till I see something interesting".
Take the Slammy awards for instance this past Monday on RAW. While it was a perfectly acceptable show in content, did it really need to be three damn hours? They could have crammed everything they had in that show into two hours. Ok granted some things could have been cut, but for the most part they could have did that entire show during a regular RAW. I honestly hate the BIG SPECIAL THREE HOUR EXTRVAGANZAS. But I guess its win/win for USA. It eats up an extra hour and they don't have to run an extra episode of House, Law & Order SVU/CI, or NCIS in its place. Point is though that these three hour shows seemingly happening every few weeks are over kill. Maybe they should just turn it into Nitro all ready and just make the damn show three hours. Of course unlike Nitro they wouldn't have any good lower card matches to open the show. We all know how Vince and company feel about lower card guys out shining main eventer's.
Well I should rethink that theory because right now there are plenty of lower card guys who are beginning to shine and actually carry a decent portion of the show when given the chance to.
Over on RAW the most obvious ones are PRICELESS. At the moment it's Cody Rhodes and Manu. Ted DiBiase is off filming The Marine 2 because for some reason the WWE thinks there is money to be made in a sequel (I will get to more on that later). Randy Orton as we know must have a foot made out of solid titanium or something because his kick to the head is apparently more deadly then the DDT, Tombstone Piledriver, or anything else involving someone being dumped on their head. Ted is out indefinitely with a "concussion" so Cody and Manu have seen themselves slowly latching onto Randy Orton. This past week Orton said "Legacy is started" so I guess that's what they are going to go with for the name of the group. Personally I wish they would just bring back Evolution and let Orton be the Triple H of the group but I doubt Triple H would want anyone else getting over with a Motorhead theme song.
Legacy is a good name though. I mean I can see them making some good merchandise off those pseudo Affliction shirts they love to sell. Throw in some skulls and abstract lines and your set.
Of course Legacy is a lot better then what it appeared to be for the last month or so which was Homo-Erotic Male Sandwich. My friend Sarah and I had a funny little convo over AIM about that and here's what resulted.
Phantom: He's Dusty's kid. Trust me, if they let him loose he wouldn't be the back end of the homoerotic promos they've been doing with him, Manu, and Orton.
Sarah: hahhahahahha oh god. I thought it was just me being, you know, a slasher of men, who thought that shit.
Phantom: No, its a running gag on a lot of sites i go to. Them all close to each other, the heavy breathing. The only thing missing is them all naked and Manu being the train in the middle of them.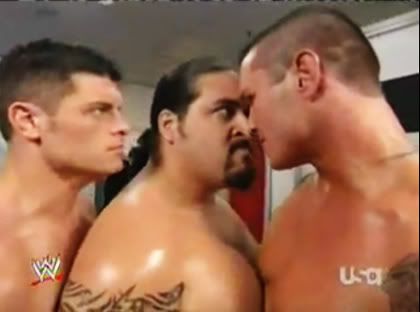 Sarah: LMMFAO hahahhahahhaa, come on ride the train and ride it. Choo choo
Phantom: Now I'll probably end up having a Samoan death warrant on me for that one.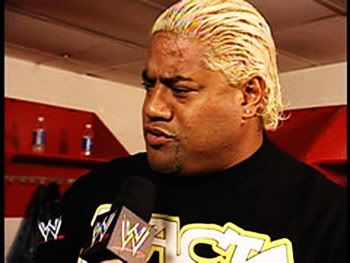 Why's Manu gotta be the bitch brah?
I've always said when it comes to the Wild Samoan's kids, Umanga got left in the jungle and Manu got to go to school and become civilized. Personally I have a hope that someday Umaga and Manu will team together and be the new Wild Samoan's. For that to work though you would need a new Captain Lou and there is no one who can fill those shoes.
When it comes to LEGACY or what ever the hell they end up calling them, Orton, Manu, and Rhodes are a solid core. I would hope Ted Jr. gets put back with them but I have a feeling the WWE thinks they might have another John Cena on their hands with him so he'll come back and take them all on with an assorted cast as his partners. In the old days of The Four Horsemen, the whole group vs. one guy and his buds was perfectly acceptable. But the question is can the WWE pull off that kind of rivalry. Obviously it would come down to Orton vs. Cena/Batista assuming Ted Jr. is not back with them as stated above.
UH OH…TIME TO FIRE UP THE DRUDGE SIREN


BREAKING NEWS!!!

JEFF HARDY WINS THE WWE CHAMPIONSHIP!!!
Hmm I did notice it suddenly got a bit colder earlier so I guess hell is indeed experiencing a cold snap right now. Never did I ever think the WWE would finally give Jeff the proverbial big one and here it has happened. Now I'll admit for a long time I hated Jeff Hardy. In the early part of this decade he was nothing but a sloppy mess and probably a self-destructing one at that. But then he went to TNA and that with not having to deal with the grinding WWE schedule seemed to recharge him. When he finally came back to the WWE he was a lot better then he was when he left. Honestly as I said a few lines above, I never thought this day would come. I thought Jeff would be another in a long line of guys who should have got a run with the title but never would have.
I'm glad when I am wrong because this makes Smackdown all that much better of a show while RAW continues to sputter. Smackdown is by far the A show in the WWE no matter how much Vince and Stephanie want RAW to be the premiere show. With Smackdown you can always count on the best action and seemingly competent angles (Khali Kiss Kam aside).
With Jeff Hardy you can expect the unexpected, which is very much a welcome change compared to John Cena who is predictable as it gets. The most obvious feud right now for Hardy would be with Edge, but Hardy and Triple H also have had some damn good matches and brawls together so there's plenty that can be done. They still have the whole "Who Took out Jeff" angle to do from The Survivor Series. Rumor has it if Christian does resign with the WWE, it would be revealed it was him (unless that's someone's fantasy booking) who took out Jeff at the hotel. The WWE could have at least gone the extra mile to have some fake security camera footage or something to at least make it really interesting, but never the less it's still pretty good and I hope they really start to ramp this one up instead of letting it become an after thought.
The big question with Hardy's title reign now is will it be long or will it be transitional. I would hope he holds it till at least Wrestlemania, but that might be hoping for a little too much. Hardy vs. Edge or even Hardy vs. Triple H at Wrestlemania would be eons better then Cena vs. Batista which by all accounts is what they are going to be aiming for (with a proper build up…i.e. lots of body building segments with them). If he makes it past The Royal Rumble as champion then I would say the odds are in his favor as making it to Wrestlemania as champion.
I mentioned that RAW and most things involved with it are very predictable. Last nights RAW was not so much predictable but just random. Random in the sense like they threw darts at a board and said lets go with that. The whole Kane/Kelly Kelly thing is proof of my dartboard theory. I've always been a fan of Kane's. I wish they would let him do something more then stuff like this. It was fun to see him beat the snot out of The Miz though. Makes you wonder who Kelly is really with and will they face the wrath of Miz & Morrison. Personally when Kane came out, I thought he was going to go after Kofi Kingston. C.M. Punk would have been way to easy of a choice considering his reputation and legend when it comes women's wrestlers and valets on the east coast.
The thing with Jericho was interesting enough. I just hate when the make Jim Duggan look all sad and pathetic in the ring. The guy still has stuff left in him but certain people in the WWE find it better to use him as a comedy act. I did find the little segment with Stephanie and Jericho funny though. I'm glad people keep making snide remarks to her about how horribly she runs the show. Stephanie asserting her power said if she wants Jericho to dance then he'll dance.
See if I were booking this, I'd have Jericho gloat about having a contract where he has creative control. That creative control would be he doesn't have to wrestle anyone he doesn't see fit to. It would be a little more interesting then "I'm the boss, do what I say". If MVP got the biggest deal in Smackdown history, who's to say Jericho didn't get the biggest deal in RAW history to come back. It's the little details like these that are missing in the WWE.
Since I mentioned MVP, you have to wonder how long the losing streak is going to continue with him. According to one report, the WWE is sick of building people up only for them to bolt (see Brock Lesnar and Bobby Lashley) so this jobbing streak is a way to see if he's here for the long haul or not. I think it's a good idea for the most part, but I kind of doubt MVP would bolt anywhere else. I hope in 2009 MVP gets a long title run because when he is a champion the man is Gold.
Now on the flip side, it appears the WWE is tiring of R Truth.
R-Truth returned to World Wrestling Entertainment with a series of vignettes and a lot of hype, but company officials have soured on his performances in the ring, reports ProWrestling.NET. R-Truth was getting a pretty big push as recently as October, but it suddenly stalled for no apparent reason. Officials feel he can hit his flashy trademark spots, but he really needs to work on the basics of wrestling in order for his push to resume.
Well the words NO SHIT come to mind. I have been saying for years that Ron Killings is overrated. Take away his horrible rapping and overly flashy moves and the guy has nothing of redeeming value. TNA tried time and time to get him over and it always ended up bombing (he got lucky with 3 Live Crew but that was Konan and BG James more then anything else). I figure they'll keep him around as long as that stupid entrance of his gets a pop from the crowd. But as soon as that runs its course, then he's really screwed. Of course I could be wrong, but with him I doubt it.
Moving along, there are reports that the New Hart Foundation is about to debut on Smackdown. All I can say to that is it's about time. Originally there was The Hard Foundation 2.0 in Ohio Valley, but we all know how Teddy Hart endears himself to everyone and as soon as he was gone so was the foundation. But with Harry Smith and T.J. Wilson teaming again in Florida, and Natalya apparently being added to their team it appears the new Hart Foundation has life again. See this is another reason that Smackdown is the best show in wrestling. Adding the new Hart's to the show will make it even better.
I've read around on some of the message boards that I go to that there are to many second-generation wrestlers in the WWE. Perhaps that's true, but I'd rather have a bunch of second-generation wrestlers then over inflated body builders who were hired because they have a great look instead of any actual talent. With some of these kids, if they have a tenth of the talent their fathers had then they will be better then most guys on the roster anyway. In some cases they might even exceed or outshine their fathers talent and career. I mean did anyone ever believe when he made his debut that Randy Orton would be one of the best heels the WWE has had in possibly all this decade? Sure there will be the occasional David Samartino or David Flair, but for everyone of them there are sure to be guys who are diamonds in the rough and need the proper polishing.
Look at it this way. If Legacy takes off, it would work to have a group of second generation guys who are faces to counter act them.
Now it wouldn't be a column if I didn't get to TNA and how they are just running themselves into the ground. They apparently had a PPV last week. I didn't watch it and I'm not sure anyone did.
Let's ask Joe how things are in TNA.
Hey Joe, how is it in TNA right now?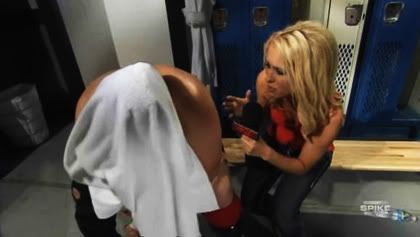 </Credit to MGFanJay from DVDVR for the cap
Ah, I feel your pain Joe.
I have nothing for TNA this week. I didn't watch it last week, and having read the spoilers for this week I doubt I will unless there's nothing else on. Then again who can pass up more Kurt Angle and Jeff Jarrett segments where Kurt threatens to murder Jeff and be the caring creepy Uncle for his three daughters.
Oh yeah speaking of Angle, I read a report that he has "told friends" that he might want to go back to the WWE when his deal with TNA is up. If this were to happen, he would probably want a light schedule like The Undertaker or Shawn Michaels.
I think if Kurt went back to the WWE it couldn't be any worse then him in TNA right now. But there would always be that small chance that someday they would find Angle in his hotel room, and if anyone did watch Impact last week there was a shot where you saw what they would find.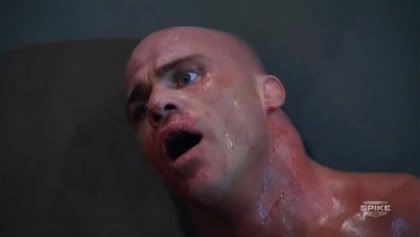 That is not the screen shot from a horror movie, that's what Kurt Angle tends to look like these days. I've always noticed he doesn't blink anymore so I can imagine looking like a corpse is the next step in the compete destruction of Kurt Angle. And remember folks he swears he will do MMA at some point. I hope and pray nothing ever happens to Kurt Angle, but after seeing this if that's not a wake up call or a vision into the future then what the hell is.
Well I think I'm about done for this week. Before I go I should mention that Bobby Lashley made his big MMA debut this weekend and won by TKO in 41 seconds after the scrub they had him fighting had a huge gash opened up on his head. If it were wrestling we would have said it was a wicked blade job. Originally he signed a two fight deal with the American Fight League but they went belly up and his contract was sold to the new Mixed Fighting Alliance. I don't know how many people were in attendance at this show at the American Airlines Arena in Miami that was called THERE WILL BE BLOOD (should have been called THERE WILL BE PLENTY OF SEATS AVALAIBLE), but it had to be a bomb financially for the promoters. Just the cost of renting the building alone had to set them back a pretty penny and as far as I know this show wasn't on PPV or anything.
I have some advice for MMA promoters. Much like wrestling promoters who try to compete with Vince McMahon, stop trying to compete with Dana White and UFC. It's just not going to happen. Save your money for some other investment, it would be better then trying to be a fly by night MMA company.
Bobby Lashley also says he will fight Brock Lesnar at some point. I'm sure Brock is always looking for sparing partners, but on PPV?
HAHAHAHAHAHAHAHA.
Oh that is a good one. Seriously though, Joey Styles vs. JBL the rematch has a better chance of happening then Lashley/Lesnar especially with how Dana White feels about pro wrestlers jumping on the MMA gravy train.
Well on that note I am done for this week. I should be back next week at some point. So until next time take care and remember someone has to give you this information and it DAMN well has got to be me.
You can click here to send me any and all feedback at phantomlordnyc@yahoo.com or leave me some feedback in my Live Journal at phantomlord-lop.livejournal.com
And now the Plugs
Click here to visit the revamped HiFiHits.com for free live streaming music 24 hours a day seven days a week 365 days a year.
If I pissed you off here, Visit Blogmageddon.com…Home for Boobs For Freedom and many of my opinions outside of wrestling and much more
Click here to visit LethalWrestling.com…Home of Lethal Radio and The website Vince Russo looks to for inspiration
If your bored bug me on that Myspace thing at Myspace.com/phantomlordlop