I see you, you see me
Watch you blowin the lines when you're making a scene
Oh girl, you've got to know
What my head overlooks
The senses will show to my heart
When its watching for lies
You cant escape my
Private eyes
They're watching you
They see your every move
Private eyes
They're watching you
Private eyes
They're watching you watching you watching you watching you
Stop laughing – like you've never grooved to Hall & Oats when you were alone in your car.
Check out what a poor wrestling fan I am: Despite being moderately interested, I've yet to see Batista since he came back; completely forgot about SNME (not that I was all that excited anyway); TNA had a PPV?; deleted ECW from the Tivo before watching the Big Show/Ric Flair match.
Why do you bother to read anything I write about wrestling?
You want to know the extent of my wrestling weekend? I'm furiously making CAW's for my PS2 game "SmackDown: Here Comes The Pain" (too cheap to buy the newer versions) – not so I can play the game with my created wrestlers – but so I can let the computer control them while I create storylines in my head around what happens. I keep the results in an excel file. I admit this only because I'm 32 years old, married with a kid, own my own house and have a good job. But with all my responsibilities – I'm still a complete and total retard. I mean – creating wrestlers so the computer can wrestle with them??? WHAT IS WRONG WITH ME????? Sooner or later, the sainted Mrs. G is going to figure out she bet on a losing horse and right the serious mistake she made. It's only a matter of time.
Oh, and RAW Rage is now being carried over on XHeadlines.com. It's a new wrestling website brought to you by the folks that bring you The Balrog's Lair. I'm syndicated again. So, for all of you reading this on XHeadlines.com – my name is Roland and this is RAW Rage. We've been doing this for 3 years now. You will find it to be the least informative and most poorly written wrestling column you've ever read. But, you'll come back week after week and get pissed when I take my occasional 5 week break. You won't know why either. Oh, and check out Salty Ham.com. It's cool and I run the place.
Links -4- Life
Larry T can make a list out of anything – INCLUDING Kevin Nash.
Time Wasting Websites is something else I do besides the world's worst wrestling column.
Sean reviewed a French film…and it actually sounds worth watching!.
Did you know you could win a Pink Floyd DVD? You can by clicking this link.
Big Chuck takes us back to The Monday Night Wars.
Corwin proves line breaks are for sissys.
And, as always:
Roland's My Space Page
Join The Salty Ham Forums!
BUY A SALTY HAM TEE SHIRT!
Giving my Crap Away
If you were paying attention last week – we're having a "Buy One, Get Something Free" sale of Salty Ham T-Shirts. Basically, if you buy a shirt, I'll send you a list of stuff I have in my prize closet. You pick a prize and I'll send that to you too. Most of it is promotional items I get for review – but there is some pretty cool stuff too. Like an "I-Trip," which is an Ipod accessory that allows you to play your songs on your Ipod on the radio. I got other stuff too – so…
BUY A SALTY HAM TEE SHIRT!
And email me at roland@saltyham.com.
Jericho Gives Us the Bird
Chris Jericho spoke with the Canadian Press the other day and said this:
"I never use the word retirement because everybody always retires and then comes back, so I never want to actually say that. If everything comes to a screeching halt and I'm out on the street wiping your windows down when you stop at a red light, then maybe I'll start thinking about going back to wrestling."
Now, I make no bones about the fact that Jericho is my favorite wrestler – and this flat out stinks. I suppose I was hoping that once the whole "burnout" thing was over and he got Fozzy out of his system, he'd come to his senses and realize that he will never be bigger than he is as a wrestler. The guy has a gift. He's one of the true rarities in wrestling today in that he's able to entertain both inside and outside the ring.
But I understand that he wants to expand his horizons. And, quite honestly, after the crap he had to endure in WWE – it makes sense he'd need a break. But, I watched his portion of "Android Apocalypse" (the movie on the Sci-Fi channel a few weeks ago) and he might want to reconsider. It's not that he was that bad – but if those are the only type of roles he is going to get – it's not worth it. My wife watched the rest of that movie while I passed out on the couch – it just wasn't easy watching Joey Lawrence act like an android. You would have thought they would have at least given him one line where he said, "Whoa."
Anyway, I don't know if Jericho's statement is anything to get too riled up about. He may feel that way today – but things change. I still fully expect to see The Rock back in the fold by the time everything is said and done. I just wish it would happen sooner.
Peace Out, Orton
It's worth mentioning that Cowboy Bob Orton's daddy passed away. I don't remember him at all – but my thoughts go out to the family.
Although, I still contend that Randy needs to get a paternity test done.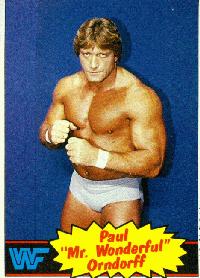 I'm just saying.
Molested By the Press
Our old friend Rob Feinstein denies reports by PWInsider saying he got kicked out from the backstage area at an ECW house show. Old Rob was upset by the backdoor comments made by the internet dirt sheet – he was not escorted out like some little kid.
The report said security asked him to leave the rear area, where the sweaty male wrestlers congregate. Security is said to have manhandled Rob out of the area, due to Rob's past.
Rob denies that security asked him to leave despite being invited in by Tommy Dreamer. In fact, Rob states that instead of being on the bottom area – he was on top in the "eagle's nest" area, gaily watching with family and friends.
The above is just plain childish.
Five Good Things About RAW
For those of you reading this for the first time – whenever I actually watch RAW, I contend that I can find at least five good things about the show and point them out here. It's my way of looking at the positive in the sea of negativity that the IWC puts out every day.
I didn't actually watch the entire show yesterday (errands). So, I came in at the Bushwackers Highlanders' match. I think I can find 5 things though.
1. Thank heavens Umaga actually won his match with Cena. I was worried there for a second with what would have been horrendous booking. Although, I wasn't happy that Umaga was seen as almost losing the match if not for some cheating (I think they've built Umaga surprisingly well and should have established his further dominance by having the opening spot through the chalkboard be the catalyst for Cena losing rather than interference – thereby giving both men a better rub – but what do I know?) – but I take what I can get.
2. Foley ripped off another brilliant promo. And it's further genius that the only way he'll grant the rematch is because Flair dared put his hands on his personal friend Melina. See – this is how things used to be. Good build of a feud through promos and one terrible act rather than by stupid match after stupid match – this makes me want to see Flair vs. Foley II.
3. Johnny Nitro wearing his IC belt like he does is just one of those small character nuances that work. It actually makes me upset he wears it like that because it disrespects that belt – but I'd never want him to change it. Good work Nitro.
4. Hey, we actually have a tag team that wants to win the Tag Team Championship? It's a banner day for RAW!
5. Well, the only thing I can think of to round out the five is that it's always a good thing to see Triple H pull out the sledgehammer. It's like seeing two old friends reunited.
And there you have it. Let the wrestling portion of this column be done with.
Triple H Facts
I decided on a reprieve for both this and Words of Wisdom. We'll see how long it lasts. Remember, you can email me your Triple H facts and I will include them in a future RAW Rage.
Enjoy your fact for the week:
A Handicap parking sign does not signify that this spot is for handicapped people. It is actually in fact a warning, that the spot belongs to Triple H and that you will be handicapped if you park there.
Words of Wisdom
I think we've adequately established that this world needs wisdom. We need leaders to inspire and comfort us in this crazy, mixed-up world. Luckily for us – there are such sages lingering around this world to provide us with much need clarity. And I try to bring them to you each week.
This week, we learn from former president Ronald Reagan and word turner Vanna White. Enjoy:

"Facts are stupid things."
– Ronald Reagan, Former U.S. President

"I just don't think America wants a female host. It's like men don't walk around in skirts in this country. Why change a good thing?"
– Vanna White
Alright kids – I'm done for the week. Try not to get in a car accident and I'll try to do this again next week.
Roland
[From My Cousin Vinny]
Vinny Gambini: It is possible that the two yutes…
Judge Chamberlain Haller: …Ah, the two what? Uh… uh, what was that word?
Vinny Gambini: Uh… what word?
Judge Chamberlain Haller:Vinny Gambini: What?
Judge Chamberlain Haller:Vinny Gambini: Yeah, two yutes.
Judge Chamberlain Haller:Vinny Gambini: Oh, excuse me, your honor… [exaggerated] Two YOUTHS.